Abstract:


Distributed Order Management or DOM systems have become critical platforms for successful Omnichannel commerce in retail, consumer goods and beyond.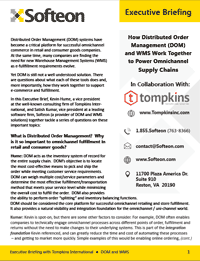 At the same time, many companies are finding the need for new Warehouse Management System (WMS) technology as fulfillment and other distribution requirements change dramatically .
But DOM is still not well understood. And there are many questions about how DOM and WMS work together, such as:
• How do I know if I may need a DOM platform?
• Can't WMS perform many DOM functions?
• Which should deployed first, DOM or WMS?
• What are the integration points?
This fast-paced Townhall Meeting will answer these questions and many more, in a fast-paced, Q&A style discussion, moderated by SCDigest editor Dan Gilmore.
The discussion will be based on an outstanding new "Executive Brief" on this same topic, developed jointly by Kevin Hume of well-known consulting firm Tompkins International and Satish Kumar, a vice president at Softeon, a provider of DOM, WMS and other supply chain software solutions. Hume and Kantar will serve as the panelists for this important event.

Not to be missed by anyone interested Omnichannel commerce and fulfillment, or Distributed Order Management generally.
All registrants will be sent a copy of the full Executive Brief shortly after the Townhall Meeting
Don't miss this outstanding broadcast!